关于金属雕花板你真的了解吗?
近年来,随着国家大力提倡装配式建筑,节能环保的金属雕花板应运而生。
金属雕花外墙板
是一种新型的节能环保材料。由于其本身具备着保温隔热、防水阻燃、轻质抗震、施工便捷、隔音降噪、绿色环保、美观耐久等特性,同时因其板体组装方式简单实用,不受季节环境限制,因此安装使用非常方便,四季皆宜。它被广泛应用于市政建设、公寓住宅、办公会馆、别墅、园林景点、旧楼改造、门卫岗亭及室内外的装修等诸多工程领域。
In recent years, as the country vigorously promotes prefabricated buildings, energy-saving and environmentally-friendly PU metal carved panels have emerged. PU metal carved panel is a new type of save energy and environmental material. Because it has the features of heat preservation and heat insulation, waterproof and flame retardant, light weight and earthquake resistance, convenient construction, sound insulation and noise reduction, green environmental protection, beautiful ,durable, and simple practical assembly method, not restricted by the seasonal environment, it is very convenient to install and use, and it is suitable for all seasons. It can be widely used in many engineering fields such as municipal construction, apartment houses, office halls, villas, garden attractions, old building renovation, guard booths and indoor and outdoor decoration.
PU-Metal-Caving-Board.jpg
规格介绍(Specification introduction)
构造:表层镀铝锌钢板,芯材聚氨酯发泡,底层铝箔纸
尺寸:(3800--6000)mm×380mm×16mm
导热系数: 0.024w/mk
耐热度:315℃
吸水率:0.08%
防火等级:B1级
重量:3.75kg/㎡
Structure: The surface layer is galvanized steel sheet, the core material is polyurethane foam, and the bottom layer is aluminum foil paper
Size:(3800--6000)mm×380mm×16mm
Thermal conductivity:  0.024w/mk
Heat resistance: 315℃
Water absorption:0.08%
Fire rating: Class B1
Weight:3.75kg/㎡
产品展示(Products Show)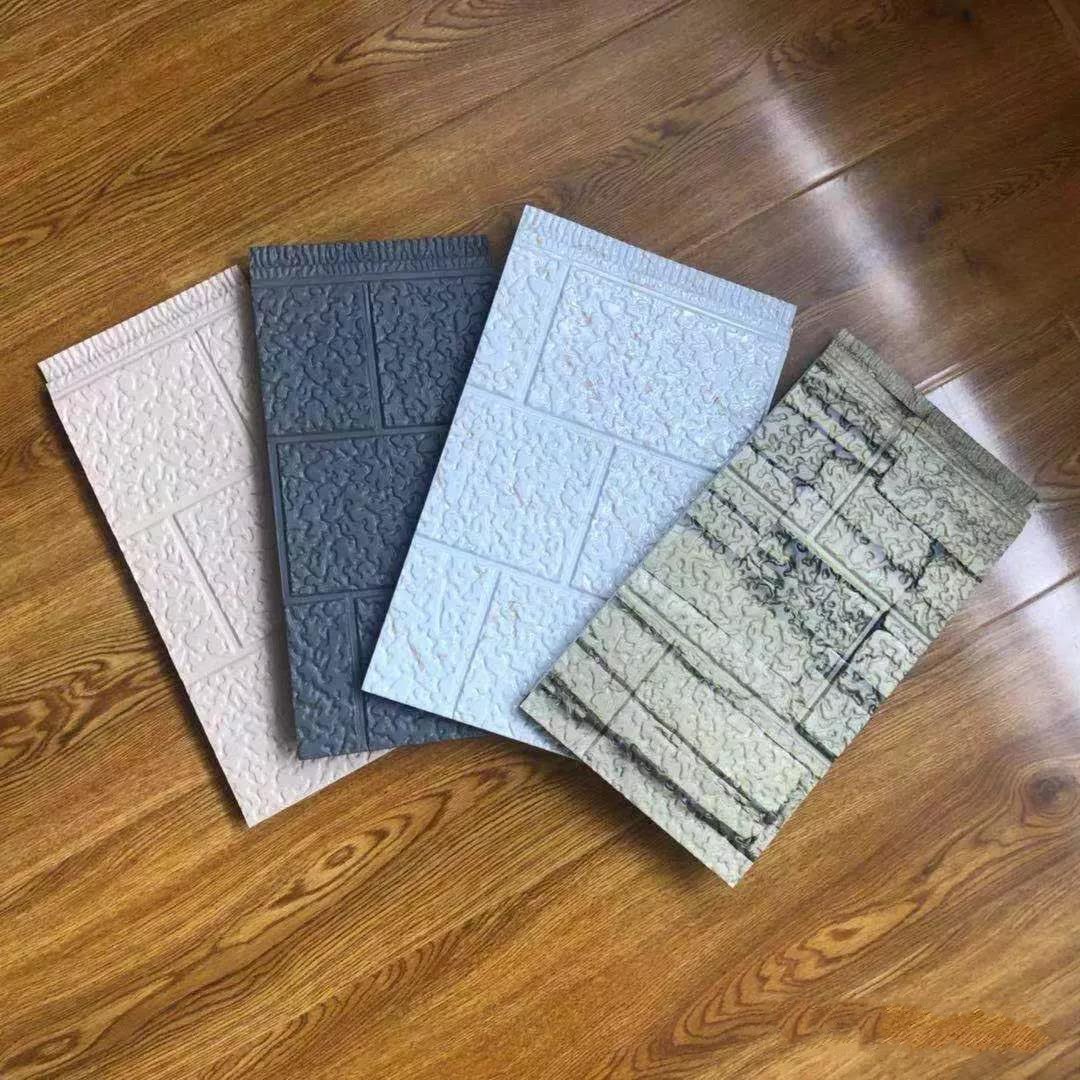 应用范围(Areas of application)
1
别墅工程(Villa project)
2
住宅工程(residential project)
外墙11.jpg
3
旧房改造(old house project)
4
酒店工程(hotel project)
5
办公楼工程(office building project)
6
厂房工程(factory building project)
7
岗亭工程(guard box project)
岗亭工程2.jpg
8
箱变工程(container project)
9
室内装修工程( interior decoration project)
如果说外墙是人的外套,内墙就是人的贴身衣物,既要舒适,又要精致。
金属雕花版
百余种浮雕花纹和色彩有百余种的搭配组合。豪华美观的装饰效果,使建筑突显档次与品位。简便灵活的拆装方式,使墙面设计搭配的更换轻而易举。外墙保温装饰一体板正在成为越来越多墙体保温装饰建材的首选。
If the outer wall is a person's coat, the inner wall is a person's underwear, which must be comfortable and delicate. There are more than one hundred kinds of embossed patterns and colors of metal carved panels. The luxurious and beautiful decoration effect makes the building looks advanced and beautiful. The simple and flexible way of disassembly and assembly makes it have various of design and match. External wall insulation and decoration integrated panel is becoming the first choice for more and more wall insulation decoration materials.